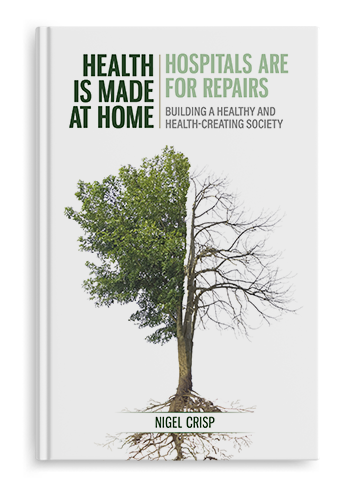 Health is made at home,
Hospitals are for repairs
Nigel Crisp
The NHS has been fighting for our lives for the last few weeks and months. Throwing all its resources at the COVID-19 pandemic. The millions of health and care workers involved have been magnificent and we must resource them better for the future.
And it's been up to us, the general public, how far and how fast the virus spreads.  There will still be a vital role for us when this pandemic is over because the NHS can't by itself deal with many of today's major health problems such as loneliness, stress, obesity, poverty and addictions. It can only react, doing the repairs but not dealing with the underlying causes.
There are people all over the country who are tackling these causes in their homes, workplaces and communities. People like the Berkshire teachers working with children excluded from school, the unemployed men in Salford improving their community; and the bankers tackling mental health in the City.
They are not just preventing disease but creating health. And they take pressure off the NHS, so it is always there when we need it.
Health is made at home challenges us to set aside our normal assumptions and take off our NHS spectacles to see the world differently and take control of our health. And it calls for a new partnership between the NHS, government and the general public to build a healthy and health creating society.